ROGER E. KULL - W.A.A.

Roger Kull
Fine Art
Pictoral Leather Sculpture
Visit the studio/gallery, "The Ranch",
Carefree Highway and 50th Street,
(look for the signs, The Ranch)
Cave Creek, AZ 85331
480-620-3849 or email: judithdurr@yahoo.com
Group Tours are available by calling 480-620-3849.
Roger Kull is a proud member of W.A.A.
click the link to visit WAA site: www.westernartistsamerica.com
Master Sculptor Roger E. Kull Technique Video: http://www.youtube.com/watch?v=fWi5IyYL7fI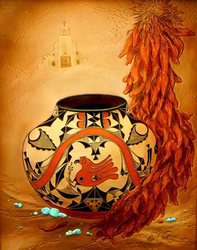 The finest quality in fine art sculpted leather created by Roger Kull, an accomplished, internationally recognized artist, Roger Kull's unique artwork has remained an unequalled standard in the world of fine art. He is continually striving to refine his skills in creating exquisite artwork. Renown for his unique, sculpted, original, 3-dimensional, fine art leather pictures, his sculpted leather genre is native American pottery, portraits, western, landscapes and historical recreations. Each exquisite fine art piece is one of a kind and available for sale on this website or at his studio, Mountain Studio, in Cave Creek, Arizona. To visit and tour his studio, or for more information concerning his art show schedule, the purchase of his fine art work and gallery listings call 480-620-3849 or email rogerekull@yahoo.com.
View an interview with Master Artist, Roger Kull at Pueblo Grande Museum, March 2011. Click the link below:
http://www.youtube.com/watch?v=QnqfXvuRCKE&feature=BFa&list=WLB60FF3751DF5FDC2&index=3
This website is designed to guide you in the selection of a unique fine art leather creation your home. Each page is arranged to easily tour this site. Check out the Catalog Theme Page for examples of Roger Kull's artwork. A Price List Page will guide your price range and on the Guest Book Page is designed for you to leave your comments. Coming soon, a Work in Progress Page will be designed for clients to watch their fine art leather picture being created.
The Price List Page will help you with pricing for your special commission needs. Pricing is subject to change without notice.The artwork shown on this website has been sold, however, new artwork is always in production. Roger works with similar themes so if something appeals to you on this website, contact him and he will be happy to guide you and create an exciting, personal work of art for you or a gift for someone special. Commissions are always welcomed. To place an order for your special original leather picture, contact Roger Kull at his home/studio in Cave Creek, Arizona.
Studio Location: "The Ranch" -N. 50th Street off of Carefree Hwy, 6 properties on the left. 4944 E. El Sendero Drive, Cave Creek, Arizona 85331.
Studio Contact: 480-620-3849 or email: rogerekull@yahoo.com or judithdurr@yahoo.com.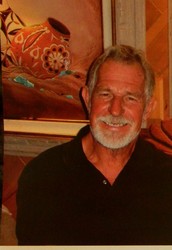 email: rogerkull@yahoo.com
Click the link above to view an interview with Roger Kull at Pueblo Grande Museum, March, 2011.
Visit the Ranch
Home of Roger Kull's Fine Art Leather Sculpture
"The Ranch" - Carefree Hwy to N. 50th Street
look for the sign that say The Ranch.
Studio Phone - 480-620-3840

Studio Email - judithdurr@yahoo.com